Activities

Activities on the campsite:

Depending on the season, the wishes and ages of our guests we organise the following activities:

The whole season
Sunday afternoon boules tournament, and also on Wednesday afternoon, if requested;
card and other game evenings;
dance evenings (usually spontaneous);
naturist walk around the campsite (don't forget your walking shoes!).
And in addition during July and August
cosy themed evenings with buffet and music;
evenings with live music;
open stage evenings;
Saturday evening disco in the (transformed) table tennis area both for adults and children, from 9 PM to 11:30 PM;
every afternoon at 6 PM the bell rings for a children's story;
in high season there are special activities for children including bingo, face painting and table tennis, volleyball and boules tournaments;
once a year, a Drôme river themed evening, with a different emphasis every year. Everybody goes to the Drôme river wearing disguises, for a fantastic evening with plays and a campfire;
on 14 July, Quatorze Juilliet (Bastille Day), the French national day, we have a big party which lasts the whole day, including a lip-sync competition;
every year, the children perform in Val Drôme's Got Talent;
there is also a ghost walk.
We also organise activities outside the campsite:
canoe or kayak trips on the Drôme river with the local canoe club;
rafting in groups if the Drôme water level permits;
canyoning in the mountains, usually near waterfalls under professional supervision (suitable for persons above 9 years of age);
horse riding: There is a riding school nearby and depending on the number of participants and their experience a trip can be made through the Drôme valley and the mountains;
walking: We have set up a number of very nice trails. Maps are available at the reception.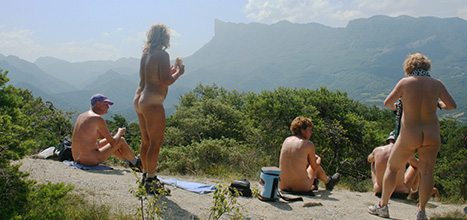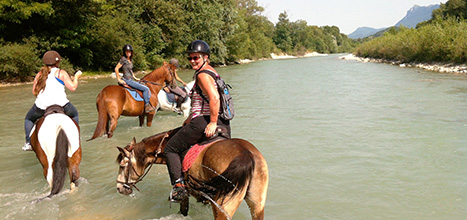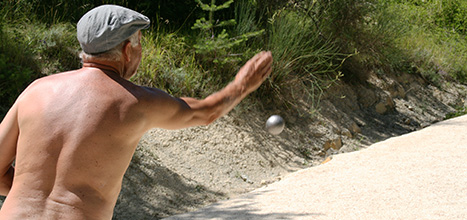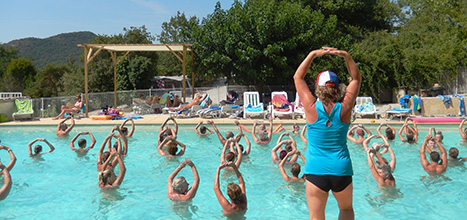 Hiking to Veyou

Have you always wanted to know what this characteristic mountain looks like from above? Now you can. During your stay, joint walking expeditions will be organised, led by competent guides. It is also possible to hike to Les Trois Becs; a challenging walk. So don't forget to pack your walking shoes for a stay at Val Drôme Soleil. If this seems a bit too ambitious, try the naturist walk around the campsite.

Dinner dance

A couple of times every season, we organise a dinner dance. In style with a beautifully set table, haute cuisine and outfits to match. Between courses and after dinner, you can head onto the dance floor. So it might be a good idea to get some practice in at home and bring that beautiful dress along!

Music

There are often spontaneous afternoons and evenings during which our guests make music together throughout the season. There is a piano and a few guitars at the campsite, but it's even better if you bring your own musical instruments. Once one person starts playing, it can become a great concert.

All together!

Excursions from the campsite are often organised and a large group of guests head off for an activity together. Canoeing or horse riding together in the Drôme. If you would prefer to go alone with your own family, just let us know at the reception and we can tell you how to book.